Introduction to Building Fireproofing Products
Fire is a threat that, as designers, you need to consider and design for. Commonly used building materials lose strength when exposed to fire, and so the need to protect the health and safety of occupants through fireproofing is essential. This course looks at fireproofing standards, testing, and the application of a variety of products to meet the fireproofing requirements of your designs.
Sponsored By: Albi Protective Coatings
Presented by: Daryl Orlich, Albi Protective Coatings
Presenter Background Information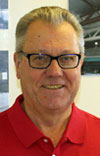 Name: Daryl Orlich
Title: VP Sales, Eastern Region, Albi Protective Coatings
Background
Daryl Orlich has been in the Commercial Fireproofing Industry for over 42 years. His career path took him from Underwriters Laboratories Incorporated through a multitude of Fireproofing professions that ultimately lead him to Vice President of Sales for Albi Protective Coatings. Daryl's Sales expertise in fireproofing is only outmatched by his technical proficiency and care for his customers.
Delivery Format: Online, Self-Paced
Privacy Policy: Albi Protective Coatings Privacy Policy
HSW Eligibility: Yes