Modern Ideas Reflected in Color, Materials, & Finishes
Cultural dynamics have long influenced design trends. As people travel and experience this beautiful and diverse world we live in, culture is finding its way across the nations. Culture can refer to traditional things like language, music, food, and more recently, internet trends. This course examines how current dynamics, such as wanderlust, influence culture and impact design. As well, resulting color trends, including nuanced neutrals and blanched pastels, are identified and discussed.
Sponsor: Kohler Co.
Presenter: Jennifer Nye, Kohler Company
Presenter Background Information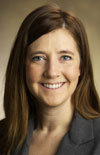 Name: Jennifer Nye
Title: Marketing Manager, Kohler Company
Background
Jennifer Nye is a Marketing executive with twelve years of leadership experience and eight years of experience marketing to architecture and design professionals (Hospitality, Commercial, Multi and Single Family Residential). An established brand marketer known for out-of-the-box ideas that disrupt and generate results, she is a passionate person and curious thinker with strong skills in leadership, mentoring, strategic planning, communications, and time-management. Jennifer is highly active in the A&D industry through organizations such as NEWH, ASID, and DLN.
Delivery Format: Online, Self-Paced
Duration: 1 hour
Privacy Policy: Kohler Co. Privacy Policy
HSW Eligibility: