Gate Hardware: Designing for Function, Safety, and Code Compliance
Considering gate hardware early in the design process enhances the aesthetics and functionality of perimeter security. Gate hardware balances durability, security, and ease-of-use without detracting from the design. This course examines latches, plain pivot and self-closing hinges, closers and accessories for swing gates, and wheels for sliding gates; it also offers guidance on specification and installation.
Sponsor: D&D Technologies (USA) Inc.
Presenter: Remi Malahieude, D&D Technologies (USA) Inc.
Presenter Background Information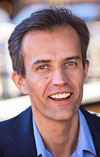 Name: Remi Malahieude
Title: Product & Business Development Manager, D&D Technologies (USA) Inc.
Background
Remi joined D&D Technologies in 2018 with a focus on product and business development in the door and gate hardware industry. Remi holds an A.S. in Mechanical Engineering, a B.S. in Sales & Marketing, and a Master of Business Administration. His previous roles over the last 25 years in Product Management, Business Development, and Regional Sales Manager overseeing an outside sales force provide him with product and market knowledge needed to expand D&D's presence in the architectural hardware industry. Remi is a member of CSI. He resides in Temecula, CA with his wife and two children.
Delivery Format: Online, Self-Paced
Duration: 1 hour 15 minutes
Privacy Policy: D&D Technologies (USA) Inc. Privacy Policy
HSW Eligibility: