The Mechanics of Design: Insights into Wall-Mounted Toilet Systems
Dual-flush wall-mounted toilets help create modern, stylish bathrooms that strike a balance between sustainable water efficiency, flexible design, and space savings. This course compares this style with other traditional types of toilets, discusses how wall-mounted toilets benefit commercial and residential users, and explains how they satisfy the Americans with Disabilities Act (ADA) and other accessibility and building code requirements.
Sponsored By: Geberit North America
Presented by: Jennifer Minsky, Geberit North America
Presenter Background Information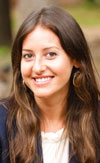 Name: Jennifer Minsky
Title: District Sales Manager NY Metro, Geberit North America
Background
Jennifer Minsky works for Geberit USA as the District Sales Manager for NY Metro. She has over 15 years of experience in sales and design, including more than 8 years experience in plumbing, working for both a manufacturer and an outside sales agency. During that time, Jennifer developed multiple high end K&B lines, facilitated trainings with the A&D community, managed and built relationships with plumbing showrooms and wholesalers, and participated in industry associations such as AIA, IDS, NKBA, ASID, NARI, and LIBI. Jennifer previously served on the ASID NY Metro Board as Financial Director.
Delivery Format: Online, Self-Paced
Privacy Policy: Geberit North America Privacy Policy
HSW Eligibility: Yes