Retrofit Security Glazing Solutions for Advanced Forced Entry & Ballistic Protection
Glass doors, windows, and storefronts are among the most vulnerable points of entry in the building envelope, and with episodes of riots, smash-and-grab crime, forced entry, and active shooters on the rise, the need for security glazing is growing. This course provides an understanding of the physical security needs of the built environment and what requirements should be met by threat mitigation products for existing storefront and building glazing. The course focus is on a new generation of clear, retrofit security "over-glaze" systems, utilizing heavy-gauge, architectural-grade polycarbonate and extruded framing designed to resist forced entry and ballistic attacks.
Sponsored By: Impact Security, LLC.
Presented by: Jeff Franson, Impact Security
Presenter Background Information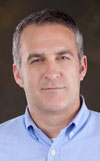 Name: Jeff Franson
Title: Managing Director, Impact Security
Background
Jeff Franson is the owner and managing director of Impact Security, LLC. As the president and CEO of Window Film Depot and a 20+ year veteran of the window film and glazing industry, he recognized the need for more advanced solutions to prevent forced entry, which led to the development and patented technology of the DefenseLite® portfolio of retrofit glazing solutions. These overglaze solutions are designed to improve and protect the performance of doors, windows, storefronts, and curtain walls for businesses of all types, including retailers and educational facilities. Best known as a 'problem solver and product innovator', Franson has become an industry leader in architectural film and retrofit security glazing field, with more than 35,000 project installations throughout the U.S. and a certified network of more than 25 authorized installation dealers. A field expert, professional trainer of more than 600 tradesmen, marketer, and brand expert—Franson takes pride that he and his team members exist to provide practical and cost-effective solutions for building owners, architects, and facility managers.
Delivery Format: Online, Self-Paced
Privacy Policy: Impact Security, LLC. Privacy Policy
HSW Eligibility: Yes