Acoustics and the Modern Human: Sound Elements as Part of Biophilic Design
Rapidly changing trends in our society, such as urbanization and a modern lifestyle, have resulted in the isolation of humans from experiences within nature. Research has shown that the psychological effects of biophilic design on noise perception have a significant influence on the well-being and health of humans. In this course, we review the science of sound, identify the potential problems associated with noise, and introduce the range of acoustic solutions formed from polyethylene terephthalate (PET) felt designed to provide sound-dampening benefits for busy commercial, educational, and healthcare facilities.
Sponsored By: Catalyst Acoustics Group
Presented by: Slavka Younger, Fräsch
Presenter Background Information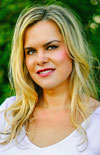 Name: Slavka Younger
Title: Co-founder, Fräsch
Background
Slavi Younger Nightingale is a Founder and Partner at Fräsch LLC. Slavi has helped with the rapid growth of Fräsch by driving its sales and marketing efforts with innovative approaches to aesthetic acoustics. Targeting four categories of acoustical products—ceilings, walls, space division, and lighting—Fräsch works closely with the A&D community and commercial furniture dealers. Slavi spends considerable time educating the design industry on sound and its effects on human health and well-being and the importance of sound on the overall experience of any given space. Slavi teaches courses on Workplace Acoustics and Acoustics and the Modern Human; both are approved for continuing education credit via AIA. She has also developed the training curriculum and marketing material used by the Fräsch sales force to promote its product offerings. With the recent acquisition of Fräsch by Catalyst Acoustics Group, an industry leader in acoustical products, Slavi takes a strategic role in the company as EVP of Sales and Marketing to help lead the organization in its continued growth and success.
Delivery Format: Online, Self-Paced
Privacy Policy: Catalyst Acoustics Group Privacy Policy
HSW Eligibility: Yes