Construction IAQ Management in LEED®
This course is for anyone working on a LEED project that is pursuing the Construction Indoor Air Quality Management Plan credit. This course looks at how teams can work together to make sure the correct documentation is collected and that, ultimately, the plan is being implemented effectively by everyone involved. This will result in fewer questions from reviewers, less backtracking by the project team to collect documentation retroactively, and a less contaminated space for future occupants.
Sponsored By: Lunchbox Consulting Inc.
Presented by: Erika Mayer, Lunchbox Consulting Inc.
Presenter Background Information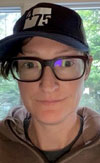 Name: Erika Mayer
Title: Owner, Lunchbox Consulting Inc.
Background
Erika Mayer is the owner of Lunchbox Consulting, an innovative green building consulting firm. She currently provides custom solutions to projects in order to help them meet their high-performance building goals. A leader in the green building space, her strengths lie in engagement activities, business development, nurturing trusting relationships with decision makers, and negotiating partnerships by finding common ground. Currently living in Montreal, she is passionate about bringing high-performance building to everyone.
Delivery Format: Online, Self-Paced
Privacy Policy: Lunchbox Consulting Inc. Privacy Policy
HSW Eligibility: No
In order to download this course, a USD $35.00 fee must be paid. Login below and then complete the payment form.
This course is part of one or more "Course Collections". View Course Collection Details
This course contains Sustainable Design (SD) information. View SD Information