Main Entrance Air Curtains: Improving Energy Efficiency, Health, & Comfort
Main entrance air curtains are used by architects and engineers in commercial, institutional, and industrial settings to both improve energy efficiency and protect occupant comfort and well-being. This course reviews the research that led to air curtains being approved as an alternative to vestibules in ASHRAE 90.1-2019 and other building codes, as well as how air curtains on main entries contribute to sustainability goals around energy conservation, public health, and indoor air quality.
Sponsor: Berner International
Presenter: David Johnson, Berner International
Presenter Background Information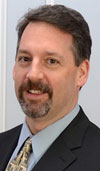 Name: David Johnson
Title: Director of Engineering, Berner International
Background
David A. Johnson is the Director of Engineering at Berner International Corp. and has spent the last 30 years there working in the heating, ventilating, and air conditioning industry primarily dealing with air curtain systems. David is responsible for the research, design, development, and certification of all Berner's products and engages in regulatory affairs concerning national, international, and government codes and standards. David has a Bachelor of Science in Mechanical Engineering from Gannon University and serves on AMCA, ASHRAE, and ISO committees and is currently Chairman of the Board of AMCA International.
Delivery Format: Online, Self-Paced
Duration: 1 hour
Privacy Policy: Berner International Privacy Policy
HSW Eligibility: