Sustainable Design Using Highly Insulated Diffused Natural Daylight
The diffuse light-transmitting and composite technology of translucent structural sandwich panels has increasingly caught the imagination of architects and designers because it is possible to maximize wall or roof daylighting while minimizing energy loss, with consequent savings in the running costs of heating, air conditioning, and artificial lighting. This course explores the fundamental connection between light and health by examining how translucent structural sandwich panels deliver glare-free, diffuse daylight deeper and more evenly into spaces with maximum thermal efficiency.
Sponsor: Kalwall Corporation
Presenter: Michael Crowder, Kalwall Corporation
Presenter Background Information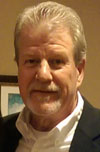 Name: Michael Crowder
Title: National Sales, Kalwall Corporation
Background
Michael Crowder, National Sales, LEED AP, has over 25 years of experience in the building materials industry and as a national sales manager. For the past 20 years, he has been a key member of the Kalwall/Structures Unlimited team, traveling across the U.S. and Canada educating architects, engineers, and contractors on the benefits of natural daylighting. Mike has presented over 2000 AIA-accredited courses.
Delivery Format: Online, Self-Paced
Duration: 1 hour 15 minutes
Privacy Policy: Kalwall Corporation Privacy Policy
HSW Eligibility: