Composite Engineered Solutions: Fiberglass Cable Management Systems
Fiberglass composite materials have advanced to become extremely efficient solutions for cable support systems exposed to highly corrosive environments. This course examines how fiberglass cable trays are manufactured and key factors that should be considered for developing nonmetallic cable tray specifications and installation guidelines.
Sponsored By: Enduro Composites
Presented by: Roy Silvas, Enduro Composites
Presenter Background Information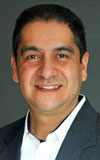 Name: Roy Silvas
Title: Director of Business Development, Enduro Composites
Background
Roy Silvas is a leading industry specialist in the field of fiberglass cable support systems. After starting his career as an Electrical Engineer for a top US defense contractor, Roy joined Enduro in 2008, bringing his technical background and interpersonal enthusiasm to support specifying engineers worldwide with cable management solutions. Roy has led Enduro's cable management business as a Sales Manager and Sales Director for both domestic and international accounts for 12 years and is currently supporting all Enduro business units as Director of Business Development.
Delivery Format: Online, Self-Paced
Privacy Policy: Enduro Composites Privacy Policy
HSW Eligibility: No