Glass Block: Stunning, Sustainable, High-Performance Design
Glass block adds light and beauty to exterior and interior projects through a wide array of patterns, sizes, and colors. This course reviews these options as well as the energy efficiency and fire ratings of glass block, installation methods, sustainable benefits, and prefabricated options for projects demanding durability, security, and resistance to extreme weather. The course concludes with case studies that demonstrate the unlimited design possibilities of this versatile product.
Sponsored By: Seves Glass Block, Inc.
Presented by: Anton E. Kava, Seves Glass Block Inc.
Presenter Background Information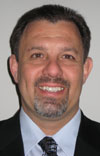 Name: Anton E. Kava
Title: President and CEO, Seves Glass Block Inc.
Background
Mr. Kava has been in the glass block industry for over 35 years. He has served several companies in various capacities, including Sales Manager, General Manager, Vice President, and Business Development Manager, and he is currently President/CEO of Seves Glass Block Inc., Seves's North American entity. Mr. Kava has an extensive background in masonry with specialties in engineering, product development, manufacturing, and R & D. During his tenure at Pittsburgh Corning, Mr. Kava developed and patented several high-performance prefabricated systems currently marketed by Seves as LightWise Architectural Systems. These systems include Blast-Resistant, Tornado-Resistant, Hurricane-Resistant, and Security & Detention Windows as well as several others. Mr. Kava also serves as a member of The Masonry Society, the American Institute of Architects, and the Construction Specifications Institute. Mr. Kava is regularly engaged with the architectural design community by providing expertise in the installation of glass block, detailing installation techniques, procedures, and methods. He works with building code officials, owners, developers, and design and construction professionals to offer solutions and insight pertaining to any glass block application. In his long career, Mr. Kava has also worked with various testing laboratories and certification agencies to regularly update, amend, and revise data and reports, maintaining one of the most extensive databases in the glass block industry.
Delivery Format: Online, Self-Paced
Privacy Policy: Seves Glass Block, Inc. Privacy Policy
HSW Eligibility: Yes