Improving Soundscapes in Educational Spaces with PET Felt
Undesirable acoustics in educational spaces have long been considered averse to our goals to effectively teach, create, collaborate, listen, and learn. Now, in the wake of implementing pandemic protocols, our acoustic comfort in these spaces is greatly challenged. This course examines the impacts of poor soundscapes in educational facilities and introduces innovative solutions for improving acoustics in these areas while keeping us comfortable and safe from exposure to emerging viruses.
Sponsored By: Catalyst Acoustics Group
Presented by: Slavi Younger Nightingale, Fräsch
Presenter Background Information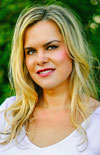 Name: Slavi Younger Nightingale
Title: Co-founder, Fräsch
Background
Slavi Younger Nightingale is a Founder and Partner at Fräsch, a Catalyst Acoustics Group Company. Slavi has helped with the rapid growth of Fräsch by driving its sales and marketing efforts with innovative approaches to aesthetic acoustics. Targeting four categories of acoustical products—ceilings, walls, space division, and lighting—Fräsch works closely with the A&D community and commercial furniture dealers. Slavi spends considerable time educating the design industry on sound and its effects on human health and well-being and the importance of sound on the overall experience of any given space. Slavi teaches courses on Workplace Acoustics and Acoustics and the Modern Human; both are approved for continuing education credit via AIA. She has also developed the training curriculum and marketing material used by the Fräsch sales force to promote its product offerings. With the recent acquisition of Fräsch by Catalyst Acoustics Group, an industry leader in acoustical products, Slavi takes a strategic role in the company as EVP of Sales and Marketing to help lead the organization in its continued growth and success.
Delivery Format: Online, Self-Paced
Privacy Policy: Catalyst Acoustics Group Privacy Policy
HSW Eligibility: Yes