Creating Distinctive and Attractive Designs on Precast Concrete Faces
Concrete is a popular, versatile, and durable construction material, and it has the potential to be very beautiful as well. Graphically imaged precast concrete is a creative, inspiring technology that can be used by architects and designers to create visually impactful building façades and other concrete surfaces. Discussed are the fabrication process, design possibilities, and budgeting considerations. Global case studies present a range of applications of both stock and unique designs.
Sponsored By: AltusGroup
Presented by: John M. Carson, AltusGroup, Inc.
Presenter Background Information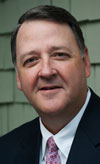 Name: John M. Carson
Title: Executive Director, AltusGroup, Inc.
Background
Mr. Carson is a strategic marketing and technical business development veteran who has worked for industrial conglomerates such as Hercules, Himont Polyolefins, Dupont, Hexcel Corporation, and Chomarat Group in the course of his career, in addition to having owned several entrepreneurial businesses.
Mr. Carson is executive director of AltusGroup, Inc., a for-profit corporation owned by its founding members and focused on precast technology development, licensing, and innovation. It is comprised of fifteen of the leading precast concrete firms in North America, several international affiliates, and strategic innovation partners. AltusGroup members have over two dozen manufacturing plants and total group revenues exceeding $1 billion.
AltusGroup is a member of PCI and is engaged with various allied industries and organizations in support of precast concrete innovation.
Delivery Format: Online, Self-Paced
Privacy Policy: AltusGroup Privacy Policy
HSW Eligibility: No