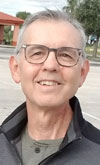 Name: Dave White
Title: Business Development Manager and Senior Technical Expert/Advisor, Architectural Iron Designs, Inc. - DuraGates
Background
Dave has a B.S. in electrical engineering and has been involved with architectural metals and building materials for 20+ years in both senior operations and executive roles, working/consulting with all channel levels of decision makers including architects, engineers, builders, fabricators, and installers. Dave's dual roles at AIDI's DuraGates Division are as Business Development Manager and Senior Technical expert/advisor working directly with specifiers, customers, and owners to assist with planning, product selection, and system recommendations, and assistance with identification of and installation best practices, as well as creating and providing educational programs regarding (ASTM F2200 & UL325) code and standard requirements.
Dave has proven to have a comprehensive understanding of how to effectively interpret and communicate proper gate construction, installation, usage requirements, good fabrication practices, and budget limitations to deliver the best gate function/hardware solution. Additionally, Dave's technical knowledge and industry experience allows him to quickly identify and advise how to fix/correct poorly installed gate systems and/or properly retrofit failed gate systems to work properly.
His determination lies in driving project success through his vast knowledge and understanding of safety, engineering, and innovation. Companies he has worked for include AIDI/DuraGates, Locinox USA, Crescent City Iron Supply, and Champion International Corp.