A Practical Look at Green Buildings for Contractors
Anybody who has worked on a green building project knows that a large portion of the project's success lies in how well the project building is built. And success may be attaining a certain LEED® certification level, attaining certain LEED points, keeping the project on budget, implementing innovative strategies for occupants, or any number of other success metrics. Many project teams put so much emphasis into the project design and often overlook how the contractor influences the project outcome. Whether it's managing the materials and products used on-site, planning and implementing proper indoor air quality management strategies, or just overall effective project execution, the contractor has the ability to make or break a green building project. This requires the contractor and their trades to be knowledgeable about sustainability and the green building project they're working on.
This course is aimed at contractors and their trades who are working on green building projects or who would like to be more involved in green buildings. This course will provide an overview of what a green building is, different ways that contractors and their trades can get involved, and the key areas that fall under the contractor's responsibility when executing a LEED project.
Sponsored By: Lunchbox Consulting Inc.
Presented by: Erika Mayer, Lunchbox Consulting Inc.
Presenter Background Information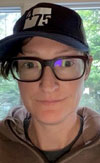 Name: Erika Mayer
Title: Owner, Lunchbox Consulting Inc.
Background
Erika Mayer is the owner of Lunchbox Consulting, an innovative green building consulting firm. She currently provides custom solutions to projects in order to help them meet their high-performance building goals. A leader in the green building space, her strengths lie in engagement activities, business development, nurturing trusting relationships with decision makers, and negotiating partnerships by finding common ground. Currently living in Montreal, she is passionate about bringing high-performance building to everyone.
Delivery Format: Online, Self-Paced
Privacy Policy: Lunchbox Consulting Inc. Privacy Policy
HSW Eligibility: No
In order to download this course, a USD $35.00 fee must be paid. Login below and then complete the payment form.
This course is part of one or more "Course Collections". View Course Collection Details
This course contains Sustainable Design (SD) information. View SD Information