Bike Parking Guide
Bicycling is a healthy activity that improves cardiovascular health and reduces obesity and disease. It can be an excellent mode of transportation for people of all ages. Biking is increasingly becoming the first choice as an alternative means of transportation, but bicycles require safe and secure storage. This course discusses bicycle parking options that meet security, durability, and aesthetic standards.
Sponsor: Madrax
Presenter: Chantel Pivotto, Madrax (Graber Manufacturing, Inc.)
Presenter Background Information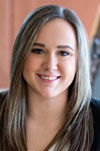 Name: Chantel Pivotto
Title: Design Consultant, Madrax (Graber Manufacturing, Inc.)
Background
I have been a proud member of the Graber Manufacturing, Inc. team since 2015. The variety of knowledge I have learned about the industry, products, and our efforts has strengthened my belief that this company truly cares about its team and customers - we are a family. Now that my focus has shifted within the Marketing Department for Madrax & Thomas Steele, I love sharing all of the things our products can do to enhance your outdoor spaces with quality, durable site furnishings and bicycle parking.
Delivery Format: Online, Self-Paced
Duration: 1 hour
Privacy Policy: Madrax Privacy Policy
HSW Eligibility: