An Introduction to Steel Deck Framing
Approximately 1 hour
Outdoor decks are commonly desired by homeowners and commercial property owners for both new and existing properties. Wood has long been the structural choice for outdoor deck materials. However, wood has disadvantages that can be mitigated with steel deck framing structural construction. In this course, we will discover that light-gauge steel (LGS) is lighter in weight than structural wood, is less susceptible to deterioration due to the elements and pests, requires less maintenance over time, is a sustainable material, and offers unparalleled safety features for dead loads, live loads, and environmental loads such as snow, earthquakes, and wind. Steel deck framing is quick to erect and provides for longer spans than wood of similar cross-sectional size. Structural materials can be easily lifted, and waste is reduced.
Presented by C. Todd Smith on behalf of Fortress Building Products.
This course is ONLINE: SELF-PACED. Experience it on your own schedule, at your convenience.
This course IS Health, Safety and Welfare eligible.
Sustainability Rating System
AEC Daily uses the following classification system to identify varying levels of sustainable design information contained within courses.
This course contains minimal sustainable design information.
This course contains partial sustainable design information.
The majority of this course is made up of sustainable design information and this course may qualify for USGBC approved GBCI CE Hours, please check course details pages for particulars.
The focus of this course is sustainable design. This course may qualify for USGBC approved GBCI CE Hours, please check course details pages for particulars.
This course contains sustainable design education. These courses are approved by GBCI for Specific CE hours.
Accessibility Information
One symbol indicates courses that address accessible design in a small portion of the course. These courses do not meet the requirements of the California Architects Board. Please verify with other state boards before considering these courses as accessibility education.
Two symbols indicate a course in which the majority of the material covers accessible design. These courses may meet the requirements of the state boards. Verify the requirements with the boards (i.e. California and Texas) for accessibility education.
Presenter Background Information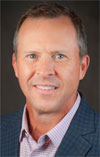 Name: C. Todd Smith
Title: Senior Specifications Manager, Fortress Building Products
Background
Combined with professional experience and years of building material sales and representation, Todd relates with designers, contractors, and manufacturers, understanding their roles, needs, and goals in the construction process… passionately and respectfully working hard to provide innovative and team-oriented solutions to better the outdoor built environment. Todd enjoys time with his three grown daughters, and being outdoors, especially in the mountains.