Embodied Carbon and the Building Envelope
In the fight against climate change, efforts intensify against the planet's number one enemy—carbon dioxide. The building industry will play a significant role in these efforts. Embodied carbon—the global greenhouse gas emissions generated from sourcing raw material and processing, manufacturing, transporting, and installing building materials—will be the target over the next decade. This course will define embodied carbon, its impact on greenhouse gas emissions, the construction industry's impact, and the methods and tools that building designers can employ to limit embodied carbon.
Sponsored By: Kingspan Insulated Panels
Presented by: Brent Trenga, Kingspan Insulated Panels NA
Presenter Background Information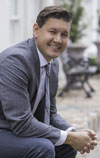 Name: Brent Trenga
Title: Director of Sustainability, Kingspan Insulated Panels NA
Background
Brent has truly run the gamut of construction industry professions—serving in various roles, including architect, developer, and even project owner—which allows him to fully understand the sustainability ecosystem. As Sustainability Director for Kingspan North America, Brent is committed to reducing the environmental impact of business operations, products, and services through continuous improvement and environmental transparency.
Since 2015 Brent has led Kingspan North America's material health and transparency program while driving a culture promoting Healthier Building, Healthier Planet, Healthier People across Kingspan's global footprint.
Brent also leads Kingspan's Planet Passionate program for the Americas, which supports strategic planning for the business development group and provides insight on current and future sustainability initiatives keeping Kingspan at the forefront of our industry.
Delivery Format: Online, Self-Paced
Privacy Policy: Kingspan Insulated Panels Privacy Policy
HSW Eligibility: Yes