Accessibility in Toilet Room Design
Millions of Americans live with impairments that substantially limit major life activities. The Americans with Disabilities Act (ADA) guarantees that people with disabilities have the same opportunities as everyone else to participate in mainstream living by mandating that public facilities and services be fully accessible to people with disabilities. This course examines the accessible elements of a multiuser toilet room. Discussed are toilet room compliance with applicable accessibility codes and regulations relating to access, use, maneuverability, and safety, and accessible design issues associated with toilet compartment and lavatory accessories.
Sponsored By: American Specialties, Inc.
Presented by: Cyrus Boatwalla, ASI Group
Presenter Background Information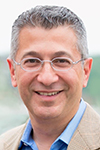 Name: Cyrus Boatwalla
Title: Head of Global Marketing, ASI Group
Background
Cyrus Boatwalla has built a stellar record as an executive, leading businesses with a varied portfolio of brands for over 25 years.
In roles such as Head of Global Marketing, Operations, and Sales, Cyrus has built Consumer Facing and B2B brands for Fortune 500, as well as private companies.
As a guest lecturer at New York University's Master's program, Cyrus shares his knowledge on how brands, and profits, are optimized when Marketing, Operations and Finance work hand-in-hand to compete for an evolving consumer's mindshare.
Cyrus is currently immersed in developing and marketing Building Products for Commercial Real Estate Construction, while influencing building design in the present and for the future.
Delivery Format: Online, Self-Paced
Privacy Policy: American Specialties, Inc. Privacy Policy
HSW Eligibility: Yes
This course addresses accessible design. Click for details