Metl-Span provides single-source solution for Metrohm USA
LEWISVILLE, Texas, May 30, 2018 – The plans for Metrohm USA's new, 90,000-square-foot headquarters called for an all-inclusive layout with space for offices, training facilities, engineering and machining workshops, a distribution warehouse and laboratories designed for collaboration. To meet the project's unique design and performance parameters, the building team turned to Metl-Span for a turnkey insulated metal panel building envelope solution from the drafting table to the jobsite. Metrohm USA, the North American subsidiary of a major Swiss manufacturer, had long outgrown its original office facility in the Tampa Bay region. Their new, $20 million headquarters in nearby Riverview, Fla. will house several dozen new employees in the coming years with meeting rooms and creative stations that could support more than 200 people.
Metrohm USA manufactures high-precision instruments for chemical analysis and titration. The complex operation demands the latest in cutting-edge technology and innovation. The design team from HTG Architects in Tampa envisioned a facility that represented the best that contemporary building façades have to offer, utilizing Metl-Span CF Architectural insulated metal panels (IMPs) to deliver not only exceptional performance, but an ultra-modern aesthetic. Within the high-performance walls, Metrohm USA relied upon a truly unique, open layout to enhance overall creativity and teamwork.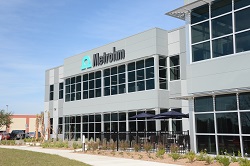 The mixed-medium building envelope incorporates 14,852 square feet of Metl-Span's 2" CF Architectural insulated metal wall panels in multiple widths. The bold Pewter finish — featuring a 70 percent PVDF fluoropolymer coating — provides an excellent contrast to the matte concrete wall portions while integrating with dynamic windows and sunshades. IMPs deliver unmatched thermal and moisture performance in a single, easy-to-install component. According to Harley, the decision to specify metal panels was "based on comparing costs, speed of erection and the desired aesthetic." Metl-Span CF Architectural IMPs deliver on all counts.
This complex, phased process required equally complex drafting, but the team from Metl-Span was up to the task. "The customer wanted to see elevations first to determine joint location early on," said Metl-Span's Frank Duran, technical services project coordinator. "We submitted all elevations a week before the full submittal drawings." Duran said the true challenge was synchronizing the extrusions, formed corners and end fold processes. Each detail demands its own unique lead time and coordination efforts. According to Metl-Span representative Michael Moore, president of Architectural MetalReps, the company provided shop drawings for the entire project scope, walking first-time insulated metal panel installer CA Systems through the process to ensure on-time delivery and seamless installation.
"There was a lot of intricate detailing on the job; some interesting panel reveals, folded corners, soffits — details you don't see every day," Moore explained. "Metl-Span handled all the shop drawings for the project. It was smooth sailing from the beginning."