ARRISCRAFT INTRODUCES ADAIR® GEORGIAN BLEND FULL-BED LIMESTONE
CAMBRIDGE, ONTARIO – Arriscraft, manufacturer of naturally-made products that emulate quarried stone, has augmented its natural limestone product offering with the introduction of Adair® Georgian Blend. Arriscraft is the stone products group of General Shale, the North American subsidiary of Wienerberger AG and a leading manufacturer of brick, one of the world's oldest green building materials.

"Our customers will love the rich colour blend of this full-bed Adair® limestone product," says Marta Zonneveld, Marketing Manager. "The new ashlar configuration also makes our Adair® limestone more accessible for residential customers. Unlike most quarried stone that has to be custom cut on-site, our new Adair® Georgian Blend comes in a classic pattern and can be installed much like our Building Stone, through standard installation techniques."
Adair® Georgian Blend is an equal mix of the traditional Sepia and Blue-Grey Adair® colours and features a split face texture. Three face rises (2-1/8", 4-3/4" and 7-3/8") in random lengths up to 23-5/8" make up the ashlar configuration. The colour blend and size combination augment the natural appeal of this classic quarried stone.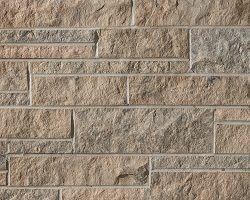 Arriscraft's Adair® Limestone is a natural, quarried stone harvested in the Georgian Bay region of Ontario. Since the 1960s, the quarry run has offered Blue-Grey and Sepia tones. In addition to the new full-bed, Georgian Blend, Arriscraft produces Adair® Masonry Units, Anchored Dimension Stone, Tile, Landscaping Stone, and Thin Adair®.