The Silca® Soil Grid X30!
A new product for in-ground hardscape installation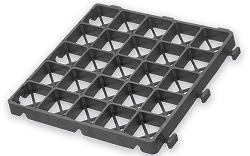 The Silca® Soil Grid X30 is a heavy duty linking grid system that allows you to build stronger hardscapes by stabilizing the base material.
Benefits:

Up to 50% base reduction in excavation
Up to 30% savings on labor cost
Wider weight dispersal
Reduced warranty call-backs for settling and shifting
Reduced risk of poor sub-base compaction
Sustainable, efficient and profitable
Quick and easy installation also saves you time and labor cost:

Lay gravel base and compact
Lay down grates, click and snap hooks together
Spread out geotextile fabric or SilcaMat for porcelain installation
Begin to lay pavers
The Silca® Soil Grid will be on display at HNA 2018! Stop by our Indoor Booth #21006 or Outdoor Booth #5524-D to see it in action!