Amba Products Announces Distribution Partnership with Hydrologic
Amba Products, distributor of heated towel rack systems, announces a partnership with Hydrologic, one of Florida's largest wholesale distributors of plumbing, indoor and outdoor lighting, fans and other home accents. The partnership will provide Amba with permanent space in its showrooms, as well as increased visibility among a wide range of builders, architects and interior designers.
According to Peter Manidis, Amba marketing manager, Tampa, Florida, serves as a design epicenter and space in Hydrologic's showroom will help Amba reach its distribution goals.
"Our vision is to have a heated towel rack in every bathroom in America," he said. "The European consumer market has been utilizing heated towel racks for decades to enhance comfort, reduce towel dampness and conserve the energy it takes to constantly dry towels in a commercial drier. Being featured in Hydrologic's showroom helps more U.S. designers see our product in action, which helps them see the possibilities."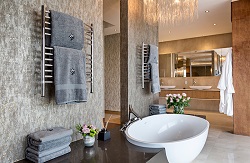 Eva Lowe, showroom manager at Hydrologic, said heated towel racks are becoming increasingly popular in U.S. bathrooms, laundry rooms, hotels and dorm rooms. She said the addition of Amba heated towel racks add a unique item to the Hydrologic showroom.
"Bathrooms and laundry rooms have been trending toward minimalism, so designers are looking for fixtures that enhance both style and function," said Lowe. "Heated towel racks are sleek, extremely functional and give standard bathrooms a spa-feel. We're excited to partner with Amba and let more designers see how heated towel racks can be easily integrated into their designs."