Soil Retention - D.R. Horton and Soil Retention - A Success Story!
Verdura® at Skyline in Vista, CA
In early 2018 D.R. Horton contracted Soil Retention to build over 25,000 sq ft of Verdura® walls at their new project site in Vista, CA - Skyline.
Challenge: The City of Vista, CA has a strict guidance on planting and irrigation, D.R. Horton had to comply to.
Consultants:
Landscape Architect: Gillespie Moody Patterson, Inc.
Engineering: Excel Engineering
Irrigation Specialists: Hunter Industries
Retaining Wall Design and Engineering: Soil Retention Systems, Inc.
In less than one year after planting, the Verdura® walls look exceptional and meet and exceed the City of Vista's landscape manual. The walls are irrigated with conventional sprayers by Hunter Industries atop the walls (pictured below).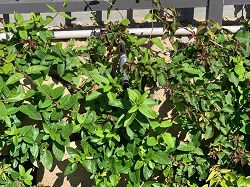 The maximum height of the 2 walls reach 16 feet. The project was completed in record time in July 2018. Based on the expertise and collaboration of a great team of consultants, this project is considered a huge success.
Skyline is home to 2 condominium developments by D.R. Horton, as well as the latest Ayres Hotel in San Diego County. D.R. Horton and Soil Retention Systems, Inc. have been working together successfully on several projects over the years, i.e. Crosby Estates in Rancho Santa Fe, Santa Rosa Highlands in Murrieta, Morgan Hill in Temecula, Seaglass in San Marcos to name a few.
Please help us welcome our new team members:
Shawn Higgins - Contractor Business Development
Natasha Indegno - Office Manager
Rex Revard - Architectural Sales