Oasis Outdoor Living & Landscapes Brings Bluworld of Water USA to Central Indiana
Today's fast-paced lifestyle may generate joy and productivity, but it can also create ample stress, causing homeowners to crave a greater degree of tranquility back on the home front. Rob Delaby, owner of Oasis Outdoor Living & Landscapes, has found homeowners are increasingly seeking to enhance their environment with a calming and soothing element, incorporating water features both outside and inside the home.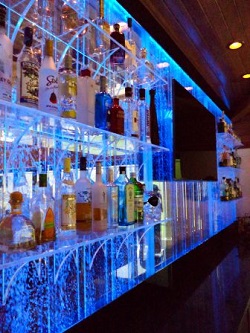 Since the beginning of time, humans have been naturally drawn to water's beauty as it serves to soothe, heal, restore, and uplift us. Moreover, water increases alertness, decreases blood pressure, and lowers depression & anxiety. And here's a great bonus: including a water feature on either the interior or exterior of your home substantially increases its value!
Last year Delaby met with a local couple who were eager to add flair to their newly constructed home by Christopher Scott Homes, by adding some unique water features. In describing the kind of design they were looking for, these homeowners, who adore Arizona and Las Vegas, said, "We want Scottsdale flair but with a Bellagio kicker."
Delaby was eager to deliver, but unfortunately there was nobody in the area that could help him with the type of technologically advanced water features he needed to create the design his clients envisioned. In doing his research, Delaby came across Bluworld of Water in Orlando and was immediately awestruck by the jaw-droppingly unique projects he saw.
"I was impressed not only in their design capability but also their proprietary trademark of the Blu-Guard system that prevents water from getting stagnant, stale, or growing algae," says Delaby. (Bluworld has developed a 100% hermetically sealed design that required no water supply, no drainage, no filtration and no regular maintenance. Because the system is 100% encapsulated with distilled water, it can never get dirty or develop any biological growth.)
"What Bluworld offers isn't currently available in the Indianapolis market," says Delaby. "We've all seen exterior water features, but how often do you walk into someone's home and see a kitchen tabletop full of water that has bubbles in it? Or an entryway with a wall of water?"
After flying to Florida, meeting Josh Effron, Senior Account Manager for Bluworld of Water, and touring the state-of-the-art 40,000 sq. ft. facility, Delaby was sold and suggested a partnership.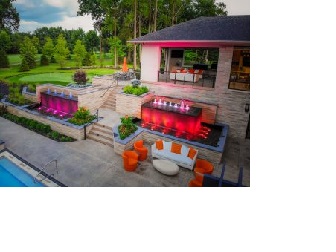 "I wanted the opportunity to be the dealer of Bluworld's concept and bring Central Indiana the beauty of Bluworld," says Delaby, who was thrilled to return to Indy and let his clients know that he could make their dream a reality, complete with a custom Butler Bulldog themed water feature.
Because of the partnership with Bluworld, the sky is the limit on customizing these water features. Clients can custom build each detail of their water feature, choosing from different panel materials, colors, lighting, and water effects.
"There is virtually no limit to what we can create or how far we are willing to travel. In fact, we now have installations in more than 35 countries and most recently, in Wah Pakistan where we designed the world's tallest indoor water feature at 165 feet," says Effron. "This includes using custom stainless steel, any type of glass as well as custom cast acrylic. These designs can also include programmable animation and lighting shows."
"I searched high and low to find a partner that could provide cutting-edge interior and exterior water features, and Bluworld has captured the market with high-end design and development with proprietary methods and computer systems," says Delaby. "I'm honored to be their dealer in Central Indiana and am eager to help any and all residential and commercial design build firms with the installation of Bluworld products and projects."
"It was a major success as all the work done by both Oasis Outdoor and Bluworld was absolutely stunning!" says Effron. "Bluworld is thankful to have a trusted and knowledgeable partner in the Indianapolis area. We feel that the opportunities are endless, and we look forward to sustaining this great partnership and working with Oasis Outdoor in the future on many projects!"