Your Software, Your Choice. Vectorworks, Inc. Licensing Philosophies
With the recent and dramatic change in economic climate due to the novel coronavirus (COVID-19), it's important for designers to have access to flexible and cost-effective licensing options to meet their constantly evolving needs.
In light of this major current event affecting the business world, we sat down with Vectorworks CEO Dr. Biplab Sarkar and Vice President of Sales Nicole Davison to explore the ins and outs of their current licensing structure for their global design products.
What sticks out most? The importance of offering our customers a choice. Read on to see what they shared.

1. Some software companies limit their options to forced subscriptions. What is Vectorworks' philosophy when it comes to licensing, and why has Vectorworks chosen a different path from its competitors?
Davison: At Vectorworks, we value our customers, so we prioritize offering purchasing options and solutions that make the most sense for them. With this in mind, we've chosen to offer perpetual, perpetual with maintenance, network, single-user options for perpetual licenses, and subscription with single-user options, so that we can customize a solution that's best for our customers and their varying needs.
Additionally, our philosophy is to reward customers for their longevity commitment. A customer who commits to the long-term by purchasing a perpetual license and staying on our maintenance plan always receives the lowest price for our product.
Sarkar: Historically, our goal has been to maintain cost of ownership lower than our primary competition. Vectorworks is a value-priced product over time, and we find that these cost savings allow us to best support our customers. Continuing to offer versatile purchasing options to our customers around the world allows us the flexibility to challenge our competitors who have limited offerings.
2. When did Vectorworks begin doing subscriptions? Where have they been rolled out?
Davison: In April 2018, subscriptions first rolled out in Australia, followed by New Zealand in August 2018, the U.S. in April 2019, Canada in September 2019, in India, China, Vietnam, South Korea, Taiwan, Thailand, Indonesia and the Philippines in November 2019 and the U.K. in March 2020. We are looking forward to releasing subscriptions throughout Europe this summer and in South America and additional Asian countries after that.
Sarkar: We chose to roll out subscriptions in Australia first and then New Zealand soon after because we have great partners interested in testing subscriptions due to their economic climate at the time. The other benefit for us was to kick off subscriptions in the English-speaking countries. Now, all of our main office locations — U.S., Canada, and U.K. — offer subscriptions, too.
3. What prompted the decision to launch subscriptions?
Sarkar: Subscriptions offered an opportunity to serve our community of users who weren't necessarily best served by a perpetual license. This could be someone who is just starting a business or freelancers who only need their design software for a few months at a time. Having a subscription is a much better solution for these individuals.
4. What types of licensing options do you offer to users?
Davison: Our software offerings boil down to three main license options:
1.) Our E Series license is an individual license that is activated over the internet. 2.) Our B Series license is an individual license that gets activated through a hardware key, that the customer owns. 3.) Our Network license is maintained on a server and allows multiple users to share seats. The server can be activated through the internet or a hardware key. Our Network option allows customers with 10+ seats on their license the flexibility to float our different product offerings.
Our E Series can be activated globally and there's never a risk of losing a hardware key like with our B Series. This factor is why we are seeing many customers migrating to our internet-authenticated solutions.
5. What is the difference between a perpetual and subscription license?
Sarkar: A perpetual license means customers own the software forever and can always use it, as long as your operating system remains compatible. You will be able to upgrade your license for up to three years at a discounted price. Current version perpetual licenses are eligible for enrollment into our Vectorworks Service Select maintenance plan, where you will receive free upgrades to the current version, exclusive training opportunities, and more.
Since Vectorworks Service Select is a maintenance program and not a subscription program, our customers own a perpetual license of their Vectorworks software and can continue to use it regardless of if they stay enrolled in Vectorworks Service Select or not.
While subscription licenses are the exact same Vectorworks product as perpetual, they are rented on either a monthly or an annual basis. If subscription is the route for you, and you plan to use the license for a year, we offer a discount to purchase an annual subscription license.
Davison: For perpetual and subscriptions, there's the option to request up to three versions back in case a customer isn't ready to upgrade to the latest version because they're in the middle of a project or collaborating with others on a different version.
6. Can you break down the benefits of Vectorworks Service Select vs. the benefits of subscriptions?
Sarkar: Vectorworks Service Select is the best way to get the most out of Vectorworks software for the most cost-effective price over time. Our members receive an immediate upgrade of new product releases including Service Pack updates, priority technical support, early release of all content through our Resource Manager, and our constantly growing library of on-demand learning tutorials. Further, Vectorworks Service Select members receive special member-only features in Vectorworks Cloud Services such as Photos to 3D Model, cloud rendering, and more.
While subscription licenses don't have the same early access to content or all of the training available in Vectorworks University, they do always have access to the most recent Vectorworks version. And, these customers have the flexibility of paying for the software when they need it.
7. Do you lose access to your work if you cancel a subscription? How can someone access their work if they cancel their subscription?
Davison: Your work is always yours, and you keep your project files. You must have an active subscription or perpetual license to update, edit, or use your files. Once your subscription period has expired, your access to Vectorworks will end unless you renew for another term or purchase another license type. We always offer our Vectorworks Viewer which allows users to open and view their files.
8. Are you allowed to convert your subscription license to a perpetual license?
Davison: Yes, you can easily convert your subscription license to a perpetual license. Since the product is the exact same, once you have purchased a perpetual license you just need to update your serial number for your license to automatically convert to a perpetual license. We often offer promotions and discounts that subscribers can take advantage of to make the conversion.
Sarkar: For customers considering whether to convert, it's worth pointing out that our perpetual license is not only a better offer compared to subscriptions, but a better option when compared to our competitors, too. Look at the chart directly below to clearly see how over time Vectorworks is the most cost-effective choice.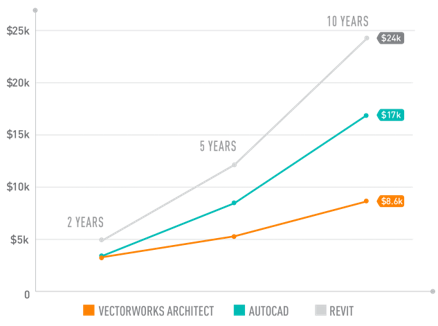 Image courtesy of Vectorworks, Inc.
Price comparisons are made using Manufacturer's Suggested Retail Price ("MSRP") in U.S. dollars against competitive annual purchasing options compared to Vectorworks purchasing options. Prices shown are an estimate and may not represent the average or prevailing market price at any particular time. Vectorworks prices may reflect promotional pricing on the initial purchase available in select markets at any given time. Prices are subject to change without notice. Price comparison information is for personal use and guidance only and does not constitute contractual representation or obligation of Vectorworks, Inc.
9. What's types of products do you offer? Where can customers learn more about pricing and buy Vectorworks software? Any closing remarks?
Davison: Vectorworks Fundamentals is our basic CAD software package, while Vectorworks Architect, Landmark, and Spotlight support the AEC, landscape and entertainment industries, respectively. Vectorworks Designer encompasses our entire suite of technology in one interface with Architect, Landmark, and Spotlight. Finally, we offer Vision, a pre-viz software; Braceworks, an add-on rigging analysis module; and ConnectCAD, a signal flow add-on as part of our entertainment offerings.
Sarkar: We seek to be the go-to software choice for designing anything and this encompasses a vast group of designers with varying needs. Not everyone can make the same pricing or license options work. It's important for our customers to always have a choice when it comes to their software, and we'll continue to prioritize this goal like we have before and during the coronavirus pandemic and even when things go back to normal.