Ponts thermiques et solutions de rupture thermique
Le besoin d'évaluer les ponts thermiques dans la conception et le rendement d'un bâtiment a gagné en importance en raison des exigences grandissantes en matière d'efficience énergétique des bâtiments. Ce cours sert d'introduction aux ponts thermiques, aux exigences du code de l'énergie et à l'usage de barrières thermiques conçues pour améliorer l'efficience énergétique de l'enveloppe du bâtiment.
Sponsored By: Fabreeka
Presented by: Luis De Jesus, Fabreeka International, Inc.
Presenter Background Information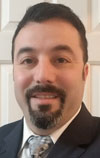 Name: Luis De Jesus
Title: Engineering Manager, Fabreeka International, Inc.
Background
Luis De Jesus holds a BS degree in Mechanical Engineering from the University of Rhode Island. At Fabreeka International for the 14 years, Luis has worked with customers, distributors, and sales teams to customize vibration and shock control solutions. As the Engineering Manager, Luis is responsible for product and application training, application engineering, R&D and new product launches.
As Fabreeka has focused on the building and construction segment in recent years, Luis supports these efforts by launching new products to expand the Fabreeka-TIM portfolio. He continues to promote thermal break products, expansion bearings and bearing pads used in this segment through internal training and supporting customer presentation efforts.
Delivery Format: Online, Self-Paced
Privacy Policy: Fabreeka Privacy Policy
HSW Eligibility: Yes