Modular Refrigeration: Flexibility, Convenience, and Modern Kitchen Design Trends
Kitchens have evolved, and so has the role of refrigeration in the home; there are a variety of factors that are contributing to this change. This course examines the social, economic, and demographic trends that are stimulating the reimagining of the kitchen space. The latest trends in kitchen design are discussed as is the role of modular refrigeration—a key design element in the creation of functional spaces that reflect the changing domestic landscape.
Sponsor: U-Line Corporation
Presenter: David Carr, U-Line Corporation
Presenter Background Information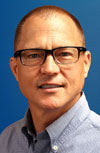 Name: David Carr
Title: Director of Product & Marketing, U-Line Corporation
Background
David has over 20 years experience in the residential appliance industry. He is a strategic and practical thinker, able to assess needs and bring people and resources together to generate efficient solutions and drive results. He embraces an entrepreneurial mindset with a strong desire to understand and shape organizational goals and foster an atmosphere of continuous improvement. David's specialties are: Consultative Sales, Marketing Initiatives, Cross Functional Communication, Territory Management, Product Training & Merchandising, Account/Distribution Management, Training & Development, Vendor/OEM Relationships, and Product Management/Development.
Delivery Format: Online, Self-Paced
Duration: 1 hour
Privacy Policy: U-Line Corporation Privacy Policy
HSW Eligibility: