Managing Water Efficiency with Dual-Flush Toilets
Efficient water use and conservation are key parts of sustainable development. Toilets account for the greatest water usage within a residential home (typically 30 percent). Dual-flush toilets are an option to reduce water usage by up to 20 percent while meeting the LEED® v4 Water Efficiency requirements. This toilet option can also be incorporated into accessible bathrooms and use touchless flush plates. The most attractive feature of the dual-flush toilet is that it does not require significant behavioral changes for benefits to be realized.
Sponsored By: Geberit North America
Presented by: Kelley DeBetta, Geberit
Presenter Background Information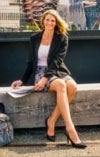 Name: Kelley DeBetta
Title: Geberit Technical Sales Representative, Geberit
Background
As Geberit's Technical Sales Representative, Kelley DeBetta oversees the training needs in the New York area. Since the beginning of her career with Geberit, she was their East Coast Trainer. Transitioning in 2014, she has focused primarily on the architectural and design community in NYC, presenting more than 100 CEUs to the top architects and designers on the East Coast and New York.
Delivery Format: Online, Self-Paced
Privacy Policy: Geberit North America Privacy Policy
HSW Eligibility: Yes