Commercial Faucets: The Hidden Link to Water Conservation
The savings that water conservation measures can provide are real and practical and offer enormous untapped potential. One of the best ways to boost conservation really hasn't been thoroughly utilized, yet it's right here at our fingertips: faucets. This course provides an overview of commercial faucets, including the evolution of the modern faucet, design and installation considerations, and the faucet's impact on water conservation and green building programs.
Sponsored By: Chicago Faucets
Presented by: Pat Tanzillo, Chicago Faucets
Presenter Background Information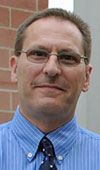 Name: Pat Tanzillo
Title: Product Manager, Chicago Faucets
Background
Pat Tanzillo is Chicago Faucet's product manager of commercial products, marketing. With 35 years' experience in the plumbing industry, Tanzillo started his career in Engineering and currently conducts product training nationwide and manages the company's commercial products.
Delivery Format: Online, Self-Paced
Privacy Policy: Chicago Faucets Privacy Policy
HSW Eligibility: Yes