Breaking Old Rules for Air Barrier Installation
This course is no longer active. AEC Daily will not report completion information for this course.
As buildings and what we demand of them have evolved, so has the technology for providing air, vapor, and water controls for the building envelope. This course will provide an overview of a sophisticated air barrier system using a self-adhered membrane that is not only highly effective, but also simple to apply with a minimum of surface preparation, and can be applied during cold or rainy conditions.
Sponsored By: VaproShield LLC
Presented by: Scott Wood, VaproShield
Presenter Background Information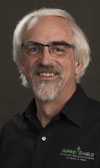 Name: Scott Wood
Title: Senior Building Scientist, VaproShield
Background
Scott Wood, an expert in building science and infrared thermography, provides consulting investigation testing for commercial and residential buildings. He has performed investigations on hundreds of buildings using infrared thermography, water and pressure testing evaluating and discovering defects as well as providing corrective recommendations to prevent heat loss, air infiltration and moisture intrusion. In 2003, Scott created and provided content development for the first building science thermography class for FLIR's ITC and has since provided well over a thousand students instruction in buildings applied thermography. In addition, his involvement in building science and thermography includes; numerous publications, clinics, workshops and presentations. His publications include the appendix G for the IEA ECBCS Annex 46, Energy Process Assessment Protocol for the use of thermography in building energy assessments and the RCI's article, "Infrared Thermography for Roof Investigations", which achieved the 2014 Richard M. Horowitz Memorial award for best technical article published in Its journal, Interface. In 2014, Scott became an employee of VaproShield working with the technical team for the advancement of vapor open building materials. As the Senior Building Scientist his responsibilities include technical support for its clients, product development and quality control including, testing and evaluating its vapor permeable membrane systems.
Delivery Format: Online, Self-Paced
Privacy Policy: VaproShield LLC Privacy Policy
HSW Eligibility: Yes