Showcase-Quality Exposed Fireproof Columns
This course is no longer active. AEC Daily will not report completion information for this course.
Structural fire protection guards essential structural components from the devastating effects of fire. This course discusses some of the types of passive fire protection methods that are available. Examined in depth are the composition, manufacture, finishes, and design and installation considerations of prefabricated fireproof structural columns designed for exposed exterior and interior load-bearing applications.
Sponsored By: Fire Trol
Presented by: Kyle Corneau, Black Rock Fireproof Column
Presenter Background Information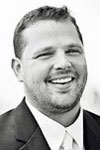 Name: Kyle Corneau
Title: Vice President, Black Rock Fireproof Column
Background
Kyle is responsible for the External Operations at BRFPC, including Business Development, Sales, Estimating, and Marketing. Kyle joined Black Rock in 2017 when the 70+-year-old firm was acquired by United Steel. Kyle returned to the United Steel team in July 2015 after a 3-year hiatus; he had previously held roles including Purchasing Manager and CNC Production Manager. In addition to hands-on expertise in structural steel and curtainwall fabrication, Kyle's other professional roles include management positions in both the manufacturing and construction industries. Kyle has a Bachelor's degree in Mechanical Engineering Technology from Northeastern University and a Master's of Science in Management from Saint Joseph College. An active participant in his community, Kyle is a former Eagle Scout and Pack 5 Cub Master, volunteer firefighter, and is a supporter of the Brain Injury Alliance of Connecticut (BIAC) "Walk for Thought". Kyle enjoys spending time with his family, outdoor activities, travel, and teaching at Manchester Community College.
Delivery Format: Online, Self-Paced
Privacy Policy: Fire Trol Privacy Policy
HSW Eligibility: Yes