Ventilation Case Studies: Understanding How Ventilation Impacts Single- and Multifamily Housing
Properly designed ventilation is a key component of a healthy roof environment and exterior building envelope. A balanced intake and exhaust system will ensure the attic space is not retaining excess moisture that could result in damage to the roof decking material, excess mold, and mildew growth, ice dams causing shingle damage, algae growth, and water or mold stains on the interior ceiling and walls. Additionally, proper ventilation in the exterior building envelope can help prevent premature deterioration of the siding and roof covering materials. This course explains the fundamentals of attic and envelope ventilation and highlights the importance of a balanced system, identifies the many venting options available, and discusses various ventilation case studies.
Sponsored By: Quarrix Building Products
Presented by: Nick Nobbe, Quarrix Building Products
Presenter Background Information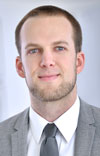 Name: Nick Nobbe
Title: Product Manager – Ventilation, Quarrix Building Products
Background
Nick Nobbe is a Product Manager at Quarrix Building Products and oversees the ventilation product line. He brings a background in product development, marketing, and project management with experience in several areas including IoT technology, enterprise software, and residential building products. With Quarrix, Nick manages twenty ventilation products and works with R&D to bring continuous innovation to the ventilation category. He spends the majority of his time collecting voice of customer research, conducting in-field ventilation inspections, specifying ventilation for residential and commercial projects, and developing and testing ventilation products. Nick authored the Quarrix ventilation training program and travels across the country training contractors and architects in ventilation best practices. Nick is a member of the ARMA Ventilation Task Force and is a graduate of the Carlson School of Management at the University of Minnesota.
Privacy Policy: Quarrix Building Products Privacy Policy
HSW Eligibility: Yes