Bulletproof Glass and Bullet-Resistant Barriers
Incorporating bulletproof glass into any facility is a sizable investment; however, it is a small price to pay for the protection of human lives. This course illustrates how to maximize that investment by selecting and installing the appropriate system for the threat level and the functional needs of the client. Discussed are UL protection level ratings; types of bullet-resistant barrier systems and their components; planning, production, and installation of systems; security window film vs. bullet-resistant glass; and project security checklists.
Sponsored By: Total Security Solutions
Presented by: Bob George, Total Security Solutions
Presenter Background Information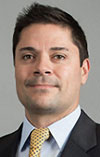 Name: Bob George
Title: Senior Sales Consultant, Total Security Solutions
Background
With a degree in Construction Management, Bob George began his construction industry career in 1996. Having previously worked in the field as a Licensed Builder, he now brings decades of construction knowledge and experience to his role as a Senior Sales Consultant at Total Security Solutions. Since joining TSS in 2011, Bob has shared his knowledge and guided clients through literally thousands of ballistic projects.
Delivery Format: Online, Self-Paced
Privacy Policy: Total Security Solutions Privacy Policy
HSW Eligibility: Yes