Electric Vehicle Charging: Basics and Beyond
The growth of EV (electric vehicle) adoption is accelerating and the behavior of EV drivers is increasing the demand for electric vehicle charging stations. This education course explains the different types of charging available and their suitable applications, and discusses the planning and installation considerations for electric vehicle supply equipment (EVSE).
Sponsor: ChargePoint, Inc.
Presenter: Christopher Balcom, ChargePoint, Inc.
Presenter Background Information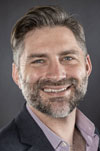 Name: Christopher Balcom
Title: Manager, NA Sales and Channel Enablement, ChargePoint, Inc.
Background
Christopher Balcom graduated from Texas State University, San Marcos, with a master's degree of science in interdisciplinary sustainability and water resources. He also has a bachelor's degree of arts in international studies. Christopher is dedicated to working with a team of highly motivated, steadfast, and resourceful problem solvers who share a collective vision and the perseverance to advance the course of human history and who remain committed to the betterment of civilization.
Delivery Format: Online, Self-Paced
Duration: 1 hour 15 minutes
Privacy Policy: ChargePoint, Inc. Privacy Policy
HSW Eligibility: