Achieving Control and Peace of Mind with Connected Plumbing Products
The Internet of Things (IoT) connects buildings by providing real-time data for action and evaluative purposes. Plumbing products can be part of the connected building to reduce maintenance and costs, help conserve water, and provide extra health and safety benefits not achievable with nonconnected plumbing products. This course reviews some examples of the data that can be collected from commercial plumbing products to deliver critical information to building managers and owners. It also describes how these products create cost and time savings, enhance health, safety, and compliance, and contribute to overall occupant satisfaction and wellness.
Sponsored By: Zurn Industries, LLC
Presented by: Luke Otten, Zurn Water Solutions
Presenter Background Information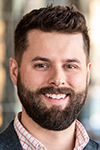 Name: Luke Otten
Title: Field Marketing Manager, Zurn Water Solutions
Background
Luke's career started in the outdoor and apparel industry working for a fourth-generation family-owned apparel manufacturer, Wigwam Mills, Inc. During his more than seven years at Wigwam, he had five different roles of increased responsibility within the marketing group, including brand and event management, digital marketing, and marketing communications. In 2018, Luke moved into the plumbing industry as Zurn's customer engagement manager. After two years in this role he shifted focus to drive growth within the sales channel as the channel marketing manager, and was later promoted to field marketing manager in July of 2021. He now oversees Zurn's training programs for internal associates and external customers, channel marketing strategy, and industry partnerships.
Delivery Format: Online, Self-Paced
Privacy Policy: Zurn Industries, LLC Privacy Policy
HSW Eligibility: Yes