Insulated Concrete Forms (ICFs): Benefits and Advantages
It is an expectation that today's buildings have to be more than just aesthetically pleasing: they have to provide measurable environmental benefits. This course outlines how insulated concrete forms (ICFs) help meet sustainable design objectives and examines the advantages that ICFs and ICF technology have over conventional construction materials for building envelopes in all building types.
Sponsored By: NUDURA
Presented by: Keven Rector, NUDURA
Presenter Background Information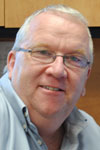 Name: Keven Rector
Title: Technical Services Manager, NUDURA
Background
With more than 20 years direct experience in the ICF industry, Keven Rector has worked with architects, building inspectors, product designers, contractors, homeowners, and many others to create high performing indoor environments using the technology. Keven's deep industry knowledge has helped the company provide great value for both distributors and end-use customers by delivering the most efficient product on the market.
Delivery Format: Online, Self-Paced
Privacy Policy: NUDURA Privacy Policy
HSW Eligibility: Yes