DC Fast Charging
Electric vehicle (EV) charging stations are not created equal; they have different capabilities to accommodate the varying needs of EV drivers. Presented here are the types of EV charging stations and their suitable applications, followed by an in-depth discussion of DC fast charging solutions, their benefits, and charging station site planning and design considerations and guidelines.
Sponsor: ChargePoint, Inc.
Presenter: Christopher Balcom, ChargePoint, Inc.
Presenter Background Information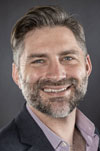 Name: Christopher Balcom
Title: Manager, NA Sales and Channel Enablement, ChargePoint, Inc.
Background
Christopher Balcom graduated from Texas State University, San Marcos, with a master's degree of science in interdisciplinary sustainability and water resources. He also has a bachelor's degree of arts in international studies. Christopher is dedicated to working with a team of highly motivated, steadfast, and resourceful problem solvers who share a collective vision and the perseverance to advance the course of human history and who remain committed to the betterment of civilization.
Delivery Format: Online, Self-Paced
Duration: 1 hour 15 minutes
Privacy Policy: ChargePoint, Inc. Privacy Policy
HSW Eligibility: