Fire Safety in High-Rise Structures
One of the most complex and least understood areas where fire can propagate is at the perimeter of a multistory building. Fire can spread not only from floor to floor via the edge-of-slab/curtain wall intersections but also along the exterior building enclosure where untested, combustible components are often installed. This program outlines best design practices for providing fire protection for building occupants per ASTM E2307 and ASTM E2874.
Sponsored By: Owens Corning
Presented by: Angela M. Ogino, Thermafiber/Owens Corning
Presenter Background Information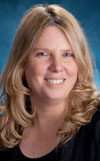 Name: Angela M. Ogino
Title: Technical Services Leader, Thermafiber/Owens Corning
Background
Angela M. Ogino is the Technical Services Leader for Thermafiber, Inc. (an Owens Corning Company). Angie has over 20 years of experience in the mineral wool and firestopping industry, providing engineering judgments and technical assistance on mineral wool product performance for architects, building officials, and contractors in the fire containment area. Angie is the developer and coordinator of all perimeter fire containment testing for Thermafiber at Underwriters Laboratories, Southwest Research and Intertek/Omega Point Laboratories. Angie is responsible for managing Thermafiber's UL and Intertek/OPL Follow-Up Service Quality Programs. She is also the developer of Thermafiber's educational programs on perimeter fire containment and has presented perimeter fire containment programs at the AIA National Conventions, as well as the CSI (Construction Specifiers Institute), Facades Plus, Facades Tectonics, and major architectural and curtain wall manufacturing firms throughout North America. Angie is the Vice President of the International Firestop Council and is also a member of the Insulation Contractors Association of America where she Co-Chaired the Commercial Construction Committee for 5 years. She is also a member of the International Firestop Council and Firestop Contractors International Association. Angie is also active in ASTM standards and building code development for IBC, Chapter 7 (Fire and Smoke Protection Features). Angie is also a LEED Accredited Professional.
Delivery Format: Online, Self-Paced
Privacy Policy: Owens Corning Privacy Policy
HSW Eligibility: Yes