Designing with Metal for the Hardscape
Metals are ubiquitous in today's hardscape and are used in a variety of applications. This course reviews the important considerations related to the proper material, finish, and manufacturing technique to meet the function, aesthetic, and budget of metal designs for hardscape applications.
Sponsored By: Iron Age Designs
Presented by: Mark Armstrong, Iron Age Designs
Presenter Background Information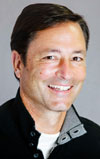 Name: Mark Armstrong
Title: Co Founder and President, Iron Age Designs
Background
Mark Armstrong has been in the decorative metal industry, specializing in site furnishings and other architectural elements, for over 20 years, including for the past 15 as cofounder and president of Iron Age Designs. With a formal education in restaurant management and the culinary arts, Mark worked in both the hospitality and construction trades before his pivotal exposure to the world of artisanal foundries and specialty fabricators. Since that time, he has been involved in the design and production of hundreds of products, helping to create functional and elegant solutions for public and private projects worldwide. The resources and relationships Mark has developed within the design community, and with a wide variety of manufacturing specialists, all inform his unique approach to this work.
Delivery Format: Online, Self-Paced
Privacy Policy: Iron Age Designs Privacy Policy
HSW Eligibility: Yes
This course addresses accessible design. Click for details