Modular Metal Panel Systems
Modular metal panel (MMP) wall systems allow for an array of different exterior and interior building designs due to their wide range of panel sizes, planes, and layout configurations. This course covers the attributes of MMPs, including the available substrates, their fabrication and ease of installation, and their ability to deliver a simple, constructible concealed-fastener rainscreen system.
Sponsored By: CENTRIA, a Nucor company
Presented by: Andrew Ashton, CENTRIA, a Nucor company
Presenter Background Information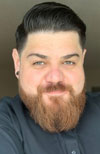 Name: Andrew Ashton
Title: Business Development Manager, CENTRIA, a Nucor company
Background
Currently serving as the Definitions Committee Co-Chair for the Rainscreen Association in North America, Andrew has spent the last decade specializing in rainscreen systems and building enclosure. He has assisted in the design and development of innovative rainscreen assemblies, trained dozens of installers on how to handle, fabricate, and install various types of materials and systems, and provided hundreds of hours of continuing-education AIA courses centered around building science and rainscreen concepts.
Delivery Format: Online, Self-Paced
Privacy Policy: CENTRIA, a Nucor company Privacy Policy
HSW Eligibility: Yes