Speed of construction, value, aesthetics, all sell insulated metal panels
Metl-Span provides cost-effective solutions for award winning Florida fireworks warehouse, retail center
LEWISVILLE, Texas – The owner of Superior Fireworks in Orange Park, Fla., put his trust in his design/build firm and ended up with a new facility that met all of his needs and came in at budget. The new facility houses a retail outlet as well as a large warehouse and shipping area, so aesthetics was an important consideration. The owner was seeking a stucco look on the exterior of the building. Insulated metal panels (IMPs) from Metl-Span provided the desired finish at a lower price.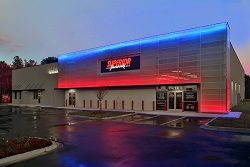 "Insulated metal panels ultimately gave us everything we wanted and needed for this project," says Kyle Crisp, vice president of Kendale Design Build of Jacksonville, Fla. "Honestly, this was the first time we've ever installed insulated metal panels. We do a lot of pre-engineered metal buildings and that was what was originally proposed for Superior Fireworks. We've seen the insulated metal panels before with a metal building structure and because we're a design/build operation, once we ran the numbers, we led the charge to make the change to insulated metal panels."
Kendale installed insulated metal panels, with three exterior textured finishes, to help achieve the stucco look the owner was after. The new Superior Fireworks facility houses offices, a retail outlet and a large warehouse that handles a lot of online orders.
"It's about dollars," says John Allmand, AIA, LEED AP, AP BD&C, of JAA Architecture in Jacksonville, Fla. "I love insulated metal panels. They have a great look and really, they're easy to construct. They save time and dollars."
The bulk (9,763 square feet) of the IMPs featured the Tuff-Wall exterior finish. Just more than 5,000 square feet of IMPs had a Snow White exterior finish and almost 2,500 square feet had a Weathered Zinc finish. All exterior panels were 22-gauge Galvalume. The interior panels were all 26-gauge Galvalume with the Igloo White finish. All IMPs were filled with a 2-inch urethane core.
"We worked with the owner on this project for about three years, so we had a lot into it," Crisp says. "He's a young guy, creative and he was very involved. We knew it was going to be a cool building all along."
Like any other project, there was a budget. The original site selected for the building called for about $600,000 worth of fill to be brought in before construction even started. Crisp says locating a new site and saving that money allowed for flexibility and upgrades to the building, including an aluminum screen on the front of the building with bright color-changing LED lights.
"We constructed sleeves through the IMPs so we could attach the screen to the metal building structure," Crisp says. "That was a unique challenge, but we ironed out all the possible problems during the design phase."
Crisp says he received a lot of guidance on this project from Cary Whittier at Metal Building Consultant and Supply LLC of Jacksonville. Whittier is a dealer for Mesco Building Solutions and provided the metal building structure for the project. Mesco presented Whittier and MBCS with a Best of the Commercial Category award for work on Superior Fireworks.
"It took a while for me to come around on using insulated metal panels," Crisp says. "But once we ran the numbers it made sense. We got a better system for less money. We got rid of the stucco guy and we got rid of the drywall guy, so we had a more cost-effective building with a cooler look and better R-value. It definitely helped speed up construction and it required fewer contractors onsite. And with less contractors onsite, you reduce your chances for problems."