McElroy Metal exposed fastener panels brighten urban neighborhood
Bossier City, La. — Strong design scoffs at limitations. Confined to designing a 2,500 square foot residence on a narrow 20-foot by 60-foot lot in a dense urban neighborhood, David W. Nitchkey, principal at CORE Architects of Pittsburgh, designed his own unique three-story home with the use of exposed fastener panels from McElroy Metal.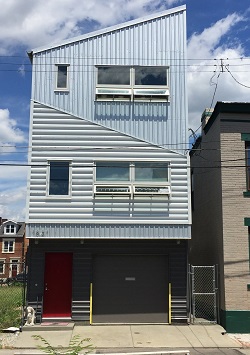 "My wife and I both wanted to live in a contemporary urban home, reflecting a modern design on both the exterior and the interior," Nitchkey says. "We chose metal to create the contemporary industrial aesthetic of the exterior. Beyond aesthetics, the exposed fastener metal panel system provided an economical solution and the material is basically maintenance free. After maintaining a large 1950s era suburban home for 14 years, we were ready to spend less time on exterior maintenance and more time enjoying the benefits of living in a city neighborhood.
"Building a contemporary home in an urban neighborhood of mostly 100-plus year-old houses presented challenges, but we never second-guessed the selection of metal for the exterior. Metal has played a historic role here and its influence comes from the steel industry in the Pittsburgh region."
The design of the home is defined by the long narrow lot and is basically a three-story rectangular box with a simple shed roof. Color on two profiles of metal panels was key to the design goals.
"As a designer, I looked at the exterior cladding as an exercise in graphic design," Nitchkey says. "The dimensional profiles, direction of the panel patterns, panel sizes and seaming, and exposed fastener colors, all became part of the layers of the design. Conceptually, the first floor horizontal U-Panels in a Charcoal color, provide a dark base to ground the structure and create a platform to support the silver Galvalume volume of the second and third floors, clad in vertical U-Panels. To provide a visual interest, 'the wedge' utilizes horizontal Mega Rib panels in Regal White. The added depth of these panels contrasts nicely against the shallower U-Panels. I am still fascinated by the way the Galvalume panels change color depending on the weather, sunlight, shade and shadow, all playing a role in creating a dynamic, ever-changing façade."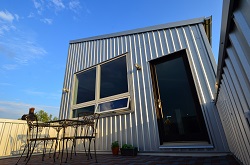 Abreez Contracting of Pittsburgh installed the McElroy panels: 1,140 square feet of U-Panels in Charcoal, 3,408 square feet of U-Panels in unfinished Galvalume, 360 square feet of Mega-Rib panels in Regal White and 162 square feet of Matrix soffit panels in unfinished Galvalume.
"It is a unique design that had its challenges," says Roger Wuenschel, owner of Abreez Contracting. "Working with Dave as the designer and homeowner was very helpful. The McElroy panels, profiles and patterns seemed to blend together effortlessly to create a unique look to the exterior of the home."
Jon Farrer, sales manager at Brock Associates Exterior Metal Products in Pittsburgh, along with Brock detailer Jeff Raymond, worked with Nitchkey throughout the design process. "Never having utilized the exposed fastener metal panel system in my designs, they were extremely patient and provided me with a wealth of knowledge in understanding how to best utilize these materials to achieve a striking design," Nitchkey says. "Since this initial collaboration, I have continued to work with Brock Associates in completing the design of five additional projects utilizing McElroy Metal's exposed fastener panels. One of the most humbling compliments that I receive regarding this design is when someone asked me how long it took to renovate our home. For me, that means that this newly constructed home with its contemporary metal skin, still manages to fit into the fabric of the historic neighborhood as a home that has always been there."