Architectural Finishes
Sometimes a design finish cannot be achieved within a certain budget or time frame. While not intended to be a substitute for real materials in every situation, architectural finishes mimic the aesthetics of natural and other materials. This course discusses the uses, manufacturing process, performance characteristics, selection considerations, and proper installation techniques of architectural finishes.
Sponsored By: 3M Company
Presented by: Victoria Kampmeyer, 3M Commercial Solutions Division
Presenter Background Information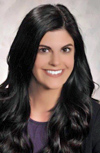 Name: Victoria Kampmeyer
Title: Inside Sales Representative, 3M Commercial Solutions Division
Background
Victoria Kampmeyer has been an inside sales representative with 3M for over two years. Her focus has been on driving sales and developing new business for 3M's decorative, sun control, safety and security, and daylight redirecting window films.
Delivery Format: Online, Self-Paced
Privacy Policy: 3M Company Privacy Policy
HSW Eligibility: Yes