Planning Guide for Accessible Restrooms
This course is no longer active. AEC Daily will not report completion information for this course.
Restroom facilities should provide easy access and use for all users, regardless of ability. It is becoming increasingly important to know the tools needed to properly plan an accessible restroom that will meet the requirements of the ADA and other standards. This course will explore how accessibility standards accommodate a wide range of users, including how to design lavatories, toilet compartments, bathing facilities, and their accessories to meet accessibility requirements.
Sponsor: Bobrick Washroom Equipment Inc.
Presenter: Alan Gettelman, Bobrick Washroom Equipment, Inc.
Presenter Background Information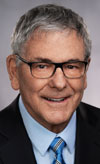 Name: Alan Gettelman
Title: Vice President, External Affairs, Bobrick Washroom Equipment, Inc.
Background
Alan Gettelman is Vice President of External Affairs at Bobrick Washroom Equipment Inc., where he previously served as Vice President of Marketing. Since joining Bobrick's sales promotion department in 1962, Gettelman has played a key role in the expansion of its product line and spearheaded marketing efforts facing distinct market segments, including architects, building owners, property managers, and facility managers. Today, Gettelman is responsible for counseling on preparation of architectural specifications and on fire codes, building codes, and accessibility standards compliance, as well as providing expertise in the areas of product development and marketing strategy.
Delivery Format: Online, Self-Paced
Duration: 1 hour
Privacy Policy: Bobrick Washroom Equipment Inc. Privacy Policy
HSW Eligibility: