Effective Waterproofing
Critical to concrete waterproofing are the products used in combination to create a system that ensures complete control of moisture migration. Presented here are effective concrete waterproofing technologies and how they improve the durability and lifespan of structures. Discussions include water penetration, system selection, membrane protection, and cementitious waterproofing.
Sponsor: W. R. MEADOWS, INC.
Presenter: Glenn Tench, W. R. MEADOWS, INC.
Presenter Background Information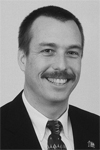 Name: Glenn Tench
Title: Director of Marketing, W. R. MEADOWS, INC.
Background
Glenn Tench has a career that spans 22 years in the construction industry. He has served in a sales and marketing capacity with W. R. MEADOWS, INC. in Hampshire, IL for the last 21 years. W. R. MEADOWS is a leading manufacturer of moisture protection products for the construction/design community. Glenn has a background in Civil Engineering specializing in building envelope and concrete restoration.
Delivery Format: Online, Self-Paced
Duration: 1 hour 15 minutes
Privacy Policy: W. R. MEADOWS, INC. Privacy Policy
HSW Eligibility: