Air Curtains: Energy Savings & Occupant Comfort
An air curtain, also known as an air door, employs a controlled stream of air aimed across an opening to create an air seal. This seal separates different environments while allowing a smooth, unhindered flow of traffic and unobstructed vision through the opening. This course discusses how air curtains work and why they can contribute to occupant comfort, energy efficiency, and indoor air quality when the door is open. It also reviews how air curtains improve whole-building energy efficiency versus conventional methods.
Sponsor: Berner International
Presenter: David A. Johnson, Berner International
Presenter Background Information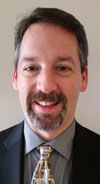 Name: David A. Johnson
Title: Director of Engineering, Berner International
Background
David A. Johnson is the Director of Engineering at Berner International and has spent the last 25 years there working in the heating, ventilating, and air conditioning industry primarily dealing with air curtain systems. David is responsible for the research, design, development, and certification of all of Berner's products and engages in regulatory affairs concerning national, international, and government codes and standards. David has a bachelor's of science in mechanical engineering from Gannon University and has been very active in AMCA by participating in and serving as chair on multiple committees for the past 23 years.
Delivery Format: Online, Self-Paced
Duration: 1 hour 15 minutes
Privacy Policy: Berner International Privacy Policy
HSW Eligibility: