Get Creative with MCM Finishes
This course is no longer active. AEC Daily will not report completion information for this course.
Today's building designs demand reliable building envelopes coupled with pleasing aesthetics. This course discusses how innovations in custom and specialty finishes on MCM panels now mean that the limitation is your imagination. In particular, we look at the use of anodizing, natural metals such as zinc, and organic coatings. The course also covers applicable standards and specifications for using these finishes.
Sponsored By: Fairview Architectural North America
Presented by: Debi Robins, Fairview Architectural North America
Presenter Background Information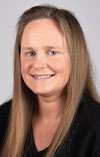 Name: Debi Robins
Title: Business Development Coordinator, Fairview Architectural North America
Background
Debi Robins has been developing a passion for cladding façades since joining the team at Fairview. Her role involves helping architects achieve their design intent by advising them on reliable aluminum cladding products as well as world-class colors and finishes. Debi liaises with stakeholders on a range of different building projects and advises them on the best solutions to meet their project needs. She also presents courses and webinars on a number of topics related to façade cladding.
Delivery Format: Online, Self-Paced
Privacy Policy: Fairview Architectural North America Privacy Policy
HSW Eligibility: Yes