Automated Robotic Parking 101: Implementation the Right Way
Properties that include green space and common areas for people to interact in are more beautiful, livable, and desirable. However, attracting people also means taking into consideration car parking. Parking, while a necessity, is not the optimal use of land in any project. Architects and developers often have to compromise their designs or reduce the amount of revenue-generating space to accommodate the required parking space. In many cases, space is at a premium, and the project cannot go forward unless an architect can somehow "create space" to account for the needed parking density.
A compact automated parking system is the solution to minimize the impact of parking. It creates more space that can benefit the property as a whole and increase the return on investment (ROI) for your clients.
Sponsored By: Robotic Parking Systems, Inc.
Presented by: Ram Ramasubbu, Robotic Parking Systems Inc.
Presenter Background Information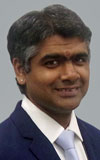 Name: Ram Ramasubbu
Title: Chief Development Officer, Robotic Parking Systems Inc.
Background
Ram Ramasubbu joined Robotic Parking Systems in early 2006 as Senior Mechanical Engineer at our Middle Eastern location in Dubai. Ramasubbu rapidly gained experience in all phases of the production and operation of Robotic Parking System.
Ramasubbu was involved in the design and build of the 765 space and 1200 space (previous Guinness World Record holder) parking facilities in Dubai. Based on his experience and expertise, he was later promoted to Technical manager in 2012 to lead the team in our Headquarters in US. He was also instrumental in the design, installation, and start-up of the 2314 space automated parking facility for Al Jahra Court in Kuwait which is the current holder of the Guinness World Record for the Largest Automated Parking Facility. He was also instrumental for the Technical Sale close out for the 2433 space Automated parking garage for the New palace of Justice in Kuwait.
As CDO, Ramasubbu heads the Global Sales team for Robotic Parking Systems. Prior to Robotic Parking Systems, Ramasubbu held positions involving the design of industrial compressors, auto electrical components, and building maintenance units for various organizations.
Delivery Format: Online, Self-Paced
Privacy Policy: Robotic Parking Systems, Inc. Privacy Policy
HSW Eligibility: Yes